If you are not yet a member, please consider joining GMIC. It is Free, it is Fun and we need YOU!

http://gmic.co.uk/


Thanks to our Sponsors!

Since the 100th anniversary of the Great War we have averaged over 17 000 visitors a month. It has become time to bring another sponsor onboard and I am pleased that Helmut Weitze has agreed to assume the role.

I bought my first piece at the Hamburg shop 22 years ago (wow, time flies!) and have always found that even as a smaller customer the service has always been superb. Please visit the homepage of Helmut Weitze Militärische Antiquitäten HERE

January 2021

Harry continues to fill in the missing pieces to the German East Africa campaign. The Fighting at Jasin December 1914 - January 1915

A study of the uniforms worn by the German Colonial troops in German South West Africa and China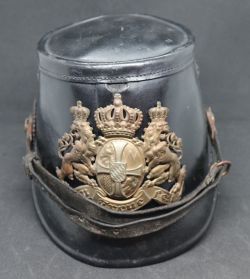 April 2020


Harry is back in German East Africa covering the actions of the Indian Expeditionary Force "B" in Tanga, November 1914. As is often the case he has some great present day photos of the battlefield today.

The 1st Reserve Bavarian Jäger Battalion in Carency, May 1915. Sometimes a heroic defeat means as much as a Victory in the history books. Included are some photos of documents to men taken prisoner and a Tschako possibly from the battle.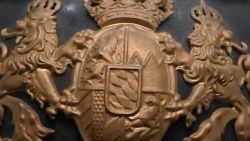 February 2020

Crossing the Awash Gorge, Harry covers the actions of the 5th Kings African Rifles in Abyssinia on the 3rd April 1941

The battle of Mörchingen, August 1914, in which the 18th Bavarian infantry Regiment lost 30% of its men, including Leutnant Eckmaier.

November 2019
Tunisia 1943, the The 1st Battalion The Loyal Regiment (North Lancashire)fought General von Armin's troops earning a Posthumous Victoria Cross

September 2019

Harry has a great new article about describing the last days of von Lettow's German East African Colonial Troops leading up to their surrender in November 1918 after fighting in Northern Rhodesia

Some uniform studies in period Photos of the 1st Bavarian Infantry Division show some very interesting details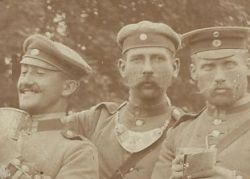 August 2019

Harry has a new article about the Somalia Gendarmerie HERE


I have started a new section, a photo study of the Bavarian Infantry. The 1st Infantry Regiment can be found HERE, the 2nd infantry Regiment will follow.


May 2019
Dunsterforce ... I knew of it... but almost nothing about it.... Check out Harry's article on the fighting in North West Persia 1918
Georg Eichermüller, an enthusiastic patrol leader and Trench Raider, decorated with the Bavarian Gold Bravery Medal
Another page added to the machine gun photoalbum

January 2019
After a long delay I have finally posted the article that I hope will do much to dispel the misnomer that the Iron Cross 1914 on a white ribbon was the standard "Non Combatant" Iron cross of WW1
Did you know Rhodesian troops fought in Burma in 1944? I did not until I read Harry's new article, adding another piece to the puzzle...
the Northern Rhodesia Regiment in Burma 1944

December 2018
As usual Harry leads the charge. Every time I think the last update set a high bar for presenting an action that could be considered "obscure" for even the most hardened WW1 Buff Harry comes back and pushes the bar just that bit higher... Operations in Transcaspia 1918 - 1919... Sowars, Sepoys and Guides against the Bolsheviks...

I am very happy to have "saved" a group to a local Unit... Leutnant d.L. II Zieglwalner, not only a Jäger officer, but he owned a Brewery as well... One of the original German Mountain troops, some fantastic awards and photos...

November 2018

Harry has a superb article on the actions against the Tangistanis in Bushire, 1915. Another action which would have remained unknown to many of us if Harry had not covered it .

Dr. Fritz Erbse and his unusual Medal Bar, the Bavarian 21st Infantry Regiment at "Creepy Wood" in 1918 HERE
I have added some great items to the "for Sale" section

August 2018
A very long delay on my part, saved by a great article by Harry covering the Hong Kong - Singapore mountain Battery in action in Egypt and Palestine 1915 (here). It includes the 1st and 2nd Battles of Gaza, an area that is obviously still very much in the news today. It was particularly interesting for me as it covers some research i had been meaning to do for ages, as a bonus to the article I have a group of award documents to a German involved in the battles (here).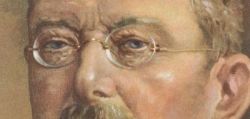 March 2018

Harry stepped up again for a fantastic article covering a little known theater... the East Persia Cordon and the Seistan Field Force 1915-1917

An exceptionally rare Iron Cross 1st Class document to Generalfeldmarschall Freiherr v.d. Goltz, the Military Governor of Belgium during the opening stages of the war.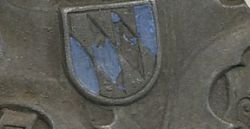 January 2018

I have been meaning to post this for some time. It is a harrowing account of Leutnant der Reserve Walter Sperber's last day in battle, fighting near Estrées on the Somme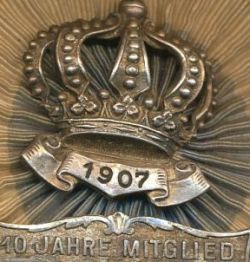 December 2017

The Malay Regiment at the Fall of Singapore has been added to Harry's list of Battle honors for the site HERE

Fearless and beyond reproach, the death of Hector Fréderic Arthur André Cornet-Auquie, Captain in the 133rd Infantry Regiment ""I have been put in command of a company. I of course keep my old rank, but I have all the powers, rights, and also all the responsibilities of a captain. It's terrible. When I was told this yesterday, it really made me sick, thinking of the lives of all these men in my hands…. I feel so young and inexperienced. You have no idea of the horrors of a battlefield." HERE

The Destruction of Orchies by Bavarian Pioneers in September 1914 HERE

Additions to the Bavarian Leib Infantry Regiment association hadges HERE


October 2017

Seventy minutes before they attacked the USA fleet in Pearl Harbour, Hawaii, the Japanese declared war on Britain and its Empire by attacking the north-east coast of Malaya at Kota Bharu in Kelantan State; the time was 0030 hours on 8th December 1941. Concurrently the Japanese invaded neutral Thailand, landing on beaches at Singora and Patani that allowed them to quickly cross the Kra Isthmus and invade Malaya down its west coastline. The east coast landings were a diversion from the west coast invasion thrust but the fighting at Kota Bharu was the toughest that the Japanese had to face in Malaya.

September 2017

There will be another update this month, but I had to quickly post this for the 18th of September.... 99 Years ago today.....

The complete destruction of the 3. Komp of the Bavarian Infanterie Leibregiment at Épehy, September 1918

August 1917

An update to Harry's Sideshows, The Lushai Brigade, fighting in Burma, March 1944 - June 1946 .... I had often seen illustrations of the "V" Force badge ... now I know what "V" Force was....

The "Cafard", the suicide of a Bavarian Legionnaire in the French Foreign Legion, Morocco 1916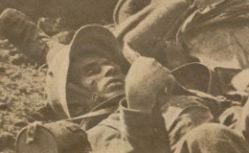 June 2017

Harry has a bumper article again... The Road to Damascus -3/1st Punjabis and 4/6th Rajputana Rifles fighting the Vichy French in Syria, June 1941

Gefreiter Heinrich Grieshammer of the 7th Bavarian Reserve Infantry Regiment was awarded the Bavarian Gold Bravery medal for his courage at Maurepas on the Somme in 1916


May 2017
Harry continues to follow the Kings African Rifles, this time the 3rd Battalion of 2nd King's African Rifles in German East Africa in 1917.
Its been some time since I have added any Photos to the Machine Gun Photo Album, so here are a few more.
At the risk of sounding Trumpian... the last two months have seen the site crack the 25 000 visitors a month ceiling, thanks to all of you!

April 2017

Harry covers Operation Line, the King's African Rifles in Madagascar 1942

The "For Sale" section has been added to, including an Iron Cross 1st Class group to a Machine Gun Sharpshooter NCO, QSAs to Afrikaaners serving the British and Turkish awards from the Crimean Period

March 2017 (2)

I have opened the "for sale" section again, a slow start, but a couple of worthy items including one Gem.

March 2017

Harry's Sideshows has an article added about OPERATION AYO, the Battle of Imphal in May 1944



The German Uniforms section has a study of Bavarian Infanterie Leibregiment period uniform studies including

- Shoulderboards
- Litzen
- Tunic styles

January 2017

A MG08 captured by the Canadian 2nd Division on the 2nd of September 1918 on the Canal du Nord


January 2017

After a slow end to 2016 I hope to update more often this year.

Harry has two Fantastic Commando related articles,
- -- The Bush Warfare School Commandos - and the Special Service Detachments (Commando) in Burma in 1942
- -- Bringing back a prisoner -OPERATION BEAN, Arakan Coast, Burma, 23rd November 1944

I have done a small revamp to the for sale section, the items are posted at GMIC

Another edition to the "Articles" section, showing a recent article on the Bavarian Bravery medal.

October 2016

Harry has a fantastic Side Show detailing the Japanese Advance towards Kohima in 1944

An addition to the "Leiber Ring" article showing a Pre War Commercial Ring by the firm Deschler in München

A collection of German Feldpost parcels from WW1, An unusual selection featuring the various ways used to send food parcels to the soldiers at the front.

June 2016 (3)

As promised, a fantastic article about Special Forces operations in the Karen Hills in 1945. Force 136 parachute insertions into Burma as part of Operation Character - Raising the Karens. Click HERE

The next update will have the German Army on the first day of the Somme.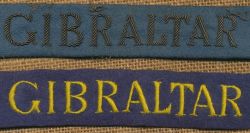 June 2016 (2)
A quick update with some examples of the Gibraltar Cuff-Title (More will be added to this soon) HERE

The next update will have something really exciting and exotic.... Operation CHARACTER - Parachute insertions into the Karen Hills, Burma, 1945 ... so watch this space!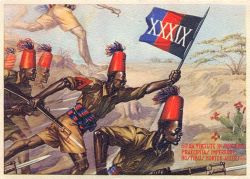 June 2016

I hope to get a couple of updates this month, lets start off with skirmishes on the Border as East African troops fight the Italians in Kenya 1940.

As the 100th anniversary of the Somme approaches, "Patrolling on the Somme" with thanks to Jack Sheldon

May 2016

Left: The Commando Group.

Retreat from Burma 1942: The struggles through the Northern Passes - Awards of the George, Albert and British Empire Medals (Military Division) and Appointments to the Most Excellent Order of the British Empire


March 2016

Mentioned in Despatches for Great War operations in West Africa - Togo and Kamerun (The first of Harry's Rolls for Operations in East and West Africa during the Great War)

A fantastic article about the Mounted Infantry Company in British and German East Africa in 1915-16

February 2016 : Update 2

A small addition to the Alpenkorps section with a selection of Badges for the Bavarian Infanterie Leib Regiment Veteran's Association HERE

Twenty new Iron crosses added to the for sale page HERE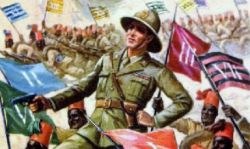 February 2016

An article describing the initial encounters between the Britain and it's allies against the Italian Forces in Sudan 1940 has been added to Harry's Africa.

An important update has been added to the article about the 2/15th Punjab Regiment at Sarawak in 1941

January 2016

The "Leiberring" was one of the most covetet awards that could be presented to a soldier in the elite bavarian Leib Regiment, a unit that took part in all the campaigns of the Alpenkorps.

Harry closes of the hunt for the Mad Mullah with the closing campaign in British Somaliland 1920

The first German Language article on the sight as Stephan Ommert covers the sinking of the Gneisenau in 1914


1 November 2015
While cleaning out my study I realised how many items I have floating around which are not really central to my collection. For that reason I have revamped the "For Sale" section and intend to post these items bit by bit. The first lot consists of 60 Iron Cross 2nd Class, various makers. Please see HERE

October 2015

Harry has added another bumper article : The 9th (Service) Battalion East Lancashire Regiment in Macedonia 1915 - 1919. The article is not only information packed but also features a series of Photos "100 years after".

I have revamped the Uniform section a bit and added a couple more items.




Please check out:

- The tunic belonging to an officer in an Infantry Assault gun batterie
- A Saxon artillery Sgts Twill Fatigue Tunic
- An American tankers Uniform




September 2015 (2)

I have finally finished the 1st part of the Bavarian Jäger at Lagarde, the Baptism of Fire of the Aschaffenburger Jäger as seen by the Battalion Commander Oberstleutnant Ernst Lettenmayer. Also included are a number of award documents to Lettenmayer that I was lucky enough to find earlier this year.


Harry has not only a bumper article about the The 2nd Battalion The Loyal North Lancashire Regiment in East Africa 1914-1917 but also a selection of Photographs that show the beautiful but deadly countryside in Africa


Some time ago I posted the list of Officers who served in the South African Mounted Brigades in East Africa, from the list it is possible to see what an incredible percentage of men were invalided due to disease.


September 2015

Storm of Steel: Leutnant der Reserve Haverkamp served with Ernst Jünger in the Füsilier Regiment Nr. 73. He was seriously wounded in Flanders in 1917


Harry picks an action that many of us will not have heard of before. Fighting the Nagas, 1832-1880 (The Naga siege of Kohima and the British attack on Khonoma)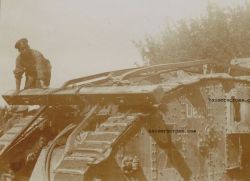 August 2015 (2)

A fantastic contribution from Harry, The 9th (Service) Battalion the Border Regiment (Pioneers) in Macedonia November 1915 – March 1919

A unique Christmas Gift to the members of the Infanterie-Geschutz Batterie attached to the Sturmbataillon Nr. 7

The Uniform charts showing French uniforms and Insignia as published by German Military Intel in 1918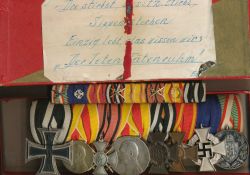 August 2015

Harry is almost at the end of his Somaliland Operations history, this time he covers the Operations against the "Mad Mullah" in British Somaliland from march 1915 until October 1919. HERE

On the left is a very impressive Medal bar to a senior NCO in I.R. 126, please follow the link for further details HERE

I have had no time over the last month or so, but hope to make up for it with 2 more updates this month.

June 2015

Its been a busy few weeks again so a big thanks to Harry for holding the fort all alone again...
Harry's Sideshows once again covers something you will not find anywhere else.... Indian Military transport troops in Macedonia 1916-1918

May 2015

A rare document, the Iron Cross 1st Class awarded to Generalfeldmarschall Wilhelm Leopold Colmar Freiherr von der Goltz as Military Governer in Belgium 1914.

As usual Harry does not dissapoint with an article covering Military operations in Aden 1914 to 1915



April 2015

Kurdistan.... we all know it from the news everyday.... Almost 100 years ago there was another conflict in the region. Harry's Sideshows has an article about "Military Operations in Mesopotamian Kurdistan during 1919" HERE

An small addition to the Alpenkorps section is the Battle Calendar of the Bavarian Leib regiment 1914-18 HERE

March 2015 Part 2

The Kuki Rising 1917-1919

Shahbash! The Kukis led the British on a merry dance for 18 months armed only with ancient muskets, they carried no packs and had no supply trains or medical support but they knew their own country well and how to live off it and fight effectively from it. They were a tough and fierce adversary who commanded the respect of all who went up against them. HERE


March 2015

The 29th Punjabis in British East Africa September to December 1914

Harry's Africa covers the Punjabis fighting in the thick African bush HERE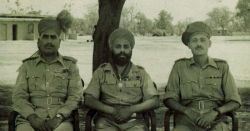 January 1915

Japanese Attack on Sarawak in December 1941 and the fighting withdrawal of 2/15th Punjab Regiment
"…a feat of endurance which assuredly will rank high in the annals of warfare… It says much for the morale of this fine battalion that it remained a formed and disciplined body till the end."


December 2014

Harry has a great article for you...

The actions at Shimber Berris - The raising and first operations of the Somaliland Camel Corps November 1914 to February 1915 HERE

A new page has been added to the machine gun photo album. HERE

I have been working on some new texts related to the Alpenkorps, they are not yet finished, but I am happy to be able to show some rare photos of men of the 2nd Bavarian Jäger Ersatz Battalion in Aschaffenburg going through basic traing in 1917 HERE


October 2014

Harry's Sideshows has another bumper offering, The Malay States Guides in action at Hatum, Aden, 12th January 1916. It is another area covered that you probably won't find anywhere else. HERE

Dave Danner was able to pull the file on Emil Engert, which has allowed me to add to his story. On the same page is a bravery commendation certificate for the 110th grenadier Regiment at Verdun in 1917 HERE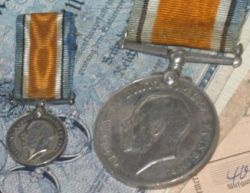 September 2014

I apologise for the long delay, but please watch this space, I hope to have a second update next week.

Harry has an article up about the 58th Vaughan's Rifles (Frontier Force) describing their campaings in some less than hospitable regions... Egypt, Palestine, Somaliland and Portuguese East Africa.

Also, a small tribute to Father Jean Desonay, one of the key Belgian resistance agents during WW!, along with his British War Medal.





July 2014: Harry has an interesting new article about the 8th Infantry Brigade fighting in Tekrit in November 1917

A few more photos added to the Machine Gunner album

Late June addition... A small addition to the "Storming the Vaux quarry" artice can be found HERE

As we head into the 100 Year "thing"I want to say a huge thanks to the visitors, 20 000 a month for the last 4 months running.

Please thinkink of joining GMIC, its free, its fun and knowledge shared is always better... we have a new WW1 section... and we need YOU!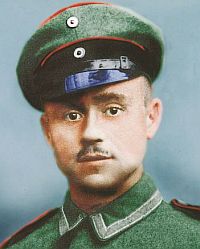 June 2014

Harry has added a sideshow article dealing with the 36th Sikhs in China 1914. The Fall of Tsingtao saw Germans, Sikhs and Japanese soldiers sharing the same battlefield.

By cross referencing award documents from Sturm Bataillon Nr.5 with the History of Sturm Bataillon is was possible to pinpoint the action for which Adolf breuer was awarded his Iron Cross 1st class. Sturmbataillon Rohr in the fighting around Craonne.

For those who have difficulty tracking the passgae of the different Jäger battalions during the war, THIS should be a big help.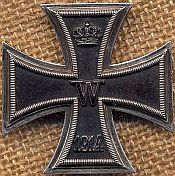 14th April

A math and science Teacher between the wars, Richard Wolf had fought as a Machine Gunner, then as a Machine Gun Officer in the 13th (Saxon) Jäger Battalion. His Iron Cross 1st Class (Godet) illustrates the account. For the account of the battalion and its machine guns on the Eastern Front please go HERE

Harry adds to his Somaliland Sage, this time with the first part of an article describing the campaigning in the Region from 1905-1913 HERE

8th March 2014

A very nice find....

In September 1916 during the fighting on the Somme Max Hartinger of the 21st Bavarian Infantry Regiment played an important part in disrupting two British attacks near Ginchy. For his part in the action he was awarded an Iron Cross 2nd Class. The award was later upgraded to a Bavarian Gold Bravery Medal, just one of 998 awarded during the war HERE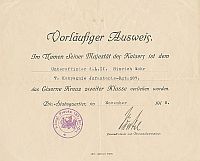 2nd Feb 2014 Update

Since the Bavarian Jäger Tschako below awakened my interest in the Red Tower Pass I did a small write up about the Infanterie Regiment 187 in Romania. The I.R. 187 had been fighting in the Vogesen before being sent to Romania. HERE

Harry has a new bumper article about the Punjabis in Somaliland, making the Kaiserscross the biggest online resource for information about campaigns in Somaliland HERE

Feb 2014

Thank you folks, January saw a record 20 497 visits to the site.

Please Visit my new Facebook page : "The Great War - Kaiserscross and the Deadman" and click on "Like", I will be posting all updates there.

This update an text courtesy of Jack Sheldon, author of a series of books about the Western Front from a German perspective. The text describes the hell of Passchendaele from the perspective of a German infantryman and is illustrated with a commendation certificate of a machine gunner who fought within a few hundred meters of the described action. HERE


Harry's Sideshows has a new article about Mutiny in the Pacific, 1942. It provides a touch of the exotic in this cold winter month. HERE

A new page has been added to the Minenwerfer Photoalbum HERE

January 2014

Thanks for visiting! December 2013 saw the site break all records with 20 315 visitors !

This year started off well...

I was able to purchase a Tschako to a Bavarian Jäger who was wounded at Cumpana on the 30th of October, which had me reading up on a campaign I knew little of nothing about. To read about the Jägers on the Red Tower Pass go HERE ... To continue with them over the icy snow swept passes of the Moscovul go HERE ... and to read about Cumpana where Hesselbach was wounded go HERE (Including Pics of the Tschako wihich he wore during the Campaign)

Harry does Honour to the men of the Indian Army by documenting the Gallantry awards and their citations in part two of "Turks across the Canal - The Suez Canal 1914-15" HERE

Something New...... Please visit "The Dead Man's Hill - Militaria Trading Post" above. It may just be worth it if you collect 1914-18!

Last update for 2013!!


I have updated the Minenwerfer Photo Album page with some rare Photos which come from an album belonging to a bavarian officer who served on the Hartmannsweilerkopf (as well as other sectors on the Western Front HERE

Harry's Africa takes us to Somaliland in 1940 as the Somaliland Camel Corps defends another outpost of the Empire HERE

For those interested in Sturm-Bataillon History, the Sturm-Abteilung Oberrotweil and the beginings of the Sturm-Bataillon 16 will be of interest HERE

December 2013 (2nd Update)

Sometimes a seemingly boring Iron Cross award document can suddenly become very interesting with a bit of lucky research, this is the case for this award of the Iron Cross 2nd Class for a Gefreiter in the 3rd Bavarian Infantry Regiment for the fighting on the Stochod in 1916.

Harry is on the move again, the Gurkha at Tor in Sinai putting another pin in his map.

A small update to the Machine Gun Photo Album HERE

December 2013

Harry really outdid himself this time. The fourth campaign against the Mad Mullah in Somaliland 1903-04 continues the saga on the Horn of Africa. Not only is the article a mine of information, but it needed four pages! Some medal groups are illustrated that will make many of us go weak at the knees HERE

HH has done a right up on the Militärpaß for a soldier who had a unique career, Machine Gunner, Flame Thrower operator and member of the fledgeling Panzer troops HERE

A new subsection dealing with Militärpässer can be found HERE, I hope to regroup a selection of outstanding passes, more to follow.


September 2013

An unfortunate event sours the month. Rick "Research" Lundstrom was killed in a car accident. Anyone involved in Imperial German Medal collecting or research would have known Rick. The Gandalf of the Research Gnomes has left the building HERE

Harry Brings us back on track with a close run thing, The fight to relieve Rumaithah, Mesopotamia 1920 HERE

A short article about an attack made by the 1st Bavarian Reserve Jäger Battalion in Romania 1917 HERE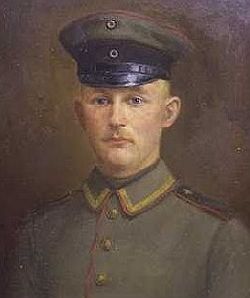 5th September 2013

Harry has moved to Baluchistan this month with an account of the Marri Field Force in 1918 HERE

A visit to the Munster valley last month has pushed me to add a bit to articles in that sector.

The article about the Sturm Abteilung (Rohr) and the death of Friedrich Pöhler has had a facelift, with the addition of some Photos and a Militärpass of a soldier wounded just a couple of days after the attack. HERE

I have added a French account of the action in which Pöhler was killed HERE

Also added is a small selection of maps on the Linge - Schratzmännle sector HERE


I was happy to visit the area where one of my favourite awards was earned, so the article on the Reichackerkopf has had a few Photos added HERE

August

Harry has done a great Service to those of us with an interest in GEA, this time concentrating on the German side, "Heinrich's Afrika" gives some answers to those wondering about the equiping of the Schutztruppen in GEA. Maybe my favourite article of the year HERE

A couple of small additions to the article about the wounded Buffalo Soldier of the US 92nd Division HERE

And some nice Pics to add to the Alpenkorps Edelweiss thread.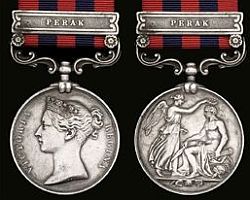 02 June

Unfortunately I have not had time this month to get the Polish introduction finished, but I think the following should be worth your while...

The Perak War 1875-76 in Harry's Sideshows... as usual Harry provides not only quality, but also quantity HERE

For those interested in Minenwerfers, two pages have been added to the photo Album HERE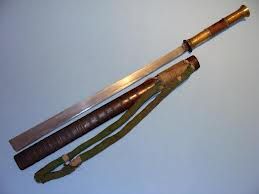 27 April

The Uprising in the Kachin Hills, 1915.... Harry covers another corner of the Great War that most of us have never heard of. Another great article in "Harry's Sideshows" HERE

Another page added to the MG Photo album HERE

Coming soon, Kaiserscross will be opening a section on the Poles contribution to the Great War

April 1st

There is a special treat this update. If you have a fraction of the knowledge Henk Loots possesses in the Boer War medal collecting field... then you are doing pretty well.

I am very pleased to be able to present two articles Henk wrote about medals to Boers who served in the Anglo Boer war. These appeared a number of years apart. I think they will be of great interest to many collectors. Certain portions of text can be found in both articles, but I thought if would be beneficial to post both articles in their entirety.

Article 1 here,
Article 2 here

Harry does not let us down, a fantastic Miniature VC group shown in "African Odyssey, The eventful life and death of Major Herbert Augustine Carter VC" here


Sorry, am a bit late.. two articles up today... both from exotic corners...

Otto von der Mülbe (Left) an officer in the Garde Grenadier Regiment 2 was an unlucky POW landing up in a French POW camp at El-Boroudj in Morocco. El-Boroudj was a penal camp where the French collected German POWs who were considered to be trouble makers. After an escape attempt v.d. Mülbe and his fellow escapees suffered punishments usually reserved for legionnaires and Biribi of the French Penal battalions HERE

Fighting in the Aden hinterland 1901-04 is the first of a Series af articles about Aden that will appear in the Harrys Sideshows section HERE


A new article has been added to Harry's Sideshows...


The taking of Salif, Yemen, The Royal Navy and the Royal Marines in Action in the Red Sea on the 12th January 1917. The fantastic, unique group of medals to Serjt. James Francis McLoughlin HERE


There is a new Page added to the Machine Gun Photo Album HERE


A new section, I have started a page of Minenwerfer Photos HERE


The first Kaiser's Cross article in print came out last year, The Kaiser's Elite: Sturm Bataillon Nr.5 (Rohr) HERE


One of the reasons I developed an interest in the Iron Cross was the William E. Hamelman book "German Iron Cross Documents of World War 1". Dr Hamelman passed away last here. J.C. has provided a small Obituary HERE

The Operations in the Tochi Valley, Waziristan, 1914 - 15 and the Victoria Cross of Captain Eustace Jotham HERE

A new page has been added to the Machine Gun Photo Album. HERE

Please check out Harry's article from the previous update as new photos have been added.

17 December

In July 1917 the 1st Battalion of the 2nd Regiment of the King's African Rifles (1st/2nd KAR) was in the Lindi area of southern German East Africa (GEA), now named Tanzania. The battalion recruited soldiers from Nyasaland, now Malawi, and also from Northern Rhodesia, now Zambia, and Portuguese East Africa, now Mozambique. For an account of the KAR and the fighting at Narunya HERE

A real Gem HERE, I had wanted to wait until I had the write up done for this... but I really want to share this Sturmbataillon Rohr item with you

I also have a new small section with postcards with an assault troop theme HERE

22nd November 2012

Rather a large update this time, but you deserve it as you are one of 17 000 visitors to the site over the last month!

First off, some nice additions to the Machine Gun Photo Album HERE

Harry has not left us in the lurch, we are back in German East Africa, this time with the 129th Duke of Connaught's own Baluchis at Kibate in 1916-17 HERE


I have been meaning to point out a great new book covering an award most of us think is pretty sexy... The "Gallipoli Star" or more correctly the "Turkish War Medal" by Demir Erman is reviewed HERE....

If anyone knows their Freikorps Insignia, could you have a crack at identifying this.. a Machingunners badge with an "L" HERE

Our GMIC users will have noticed the forum is much faster due to a new server, please take a moment to read Nick's first GMIC Newsletter HERE

17th Oct

Its been some time since I have had a nice Verdun piece... so..

"Leutn. d. Res Just commanding the 8. Komp gives the order to "Fix Bayonets!" and with a loud "Hurrah!" the 24 remaining men of his Company charged the enemy. "

The award to Leutnant d. L. Leibiger who took part in the counter attack

16 Oct
It's Africa day today,
Harry has the 2nd Part of the article on the Loyal North Lancs MGC in GEA 1916 finished HERE

Two Documents that I was very excited to find... A French Medaille Coliniale with the "Maroc" bar to an Officer in the Bat d'Af ... HERE

And a Medaille Coloniale with a "Sahara" bar for a Legionnaire of the 2e Regiment Etranger in the early stages of the conquest of the Sahara HERE



28 SEP

Well, a whole bunch stuff this time...

Harvey Huber has a really interesting article and a great Militärpass to a Flame Thrower Pionier in the 3rd Sturm-Bataillon

I have regrouped all my Sturm Bataillon Rohr documents

1) Award documents HERE

2) Militärpass HERE

I have also added another page to the Machine Gun photo album, this time some rare Mountain Equipment HERE

26 Sep
Once again some time between updates, but I promise to pick up the pace ;-)

Harry once again has a bumper article, the Indian Army advancing into German East Africa in 1916

Another page added to the Machine Gun Photo Album.

There will be a Sturm-Bataillon Article next week

23 July

If ever there was a "Fight with a view" it was the one in Harry's new article. Death in an exotic and beautiful location during the fight at Lubembe Point HERE

A recent visit to Verdun allows me to add some photos to the article about one of my favourite pieces HERE

A few links have been repaired in the GW16 article HERE... they now actually lead somewhere ;-)

Sorry for the long delay, I had a lot on my plate. Still... in the last couple of months we have had over 13 000 visitors a month! Thanks!!

03 June

It's been a chaos last two weeks, so Harry Saves the day with an article...

From Rumbo to the Rovuma River : The Nyasaland-recruited 2nd Battalion of the 2nd Regiment of the King's African Rifles in action during 1917 HERE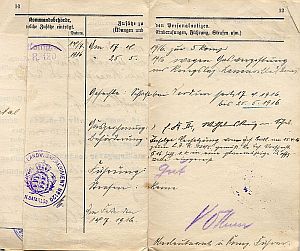 20st May

Richard Wahl was a very reluctant soldier.
The first part of his Diary is shown HERE. Wahl was incredibly happy to keep away from the front for as long as possible, did all he could to get of a Machine Gunners course, was not to happy to land up in Avocourt Forest on the border of the Verdun campaign... and was pretty unhappy about being gassed in May of 1916. He missed his chance to be captured by Sgt York who catured his company in late 1918, by which time Wahl was guarding POWS.
Objectively, Wahl seems to have been a very sensible man indeed, feet firmly on the ground and more interest in his wife and child than going to war.

Some new additions to the Machine Gun Photo Album HERE.

21st April

The Bulk of the update is thanks to Harry (once again) who has written a fantastic piece on the third campaign in Somaliland in 1902-1903 as the Kings African Rifles and Sikhs tried to capture the "Mad Mullah"

Some fantastic Machine Gun Photos up today as the album grows.

Although I have not had time to do any text, I did put up an odds and sods collection of Freikorps Documents, texts and more docs to follow.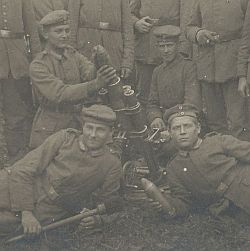 5th April


Harry has a new article detailing operations to the South East of Lake Victoria (Nyanza) from January to May 1915. HERE


A small update to the Death Card section of the Alpenkorps. HERE


Some good Photos have been added to the Minenwerfer Photo Album. HERE

20 March 2012


GMIC has a new membership badge... which I think looks really cool indeed. For those of you who don't yet have one... it's not too late ;-)

I have some really nice Photos added to the Machine Gun Photo Album, the last couple of pages have some fantastic shots.

I have been meaning to get the Verdun Diary of the Unknown Officer up for ages, I finally did it today. I am sure you will find the point of view of a company grade officer very interesting. I have a few More Verdun Diaries that I need to add.

The next update will include a really interesting article about operations near Lake Victoria... so watch this space!

10th March 2012

Well, Harry is not only writing, but also covering the old battlefield on foot.

Once again off the radar of any General History of the war, Harry covers the Battle of Muscat in 1914-1915



Two exciting things up today...

A fantastic Photo Study of the Machine Gun Abteilung of the German 1st East Asian Regiment in 1906 !

These Machine guns predate the Infamous MG08.

Harry is in Baluchistan this time following Operations Mekran 1898 - 1902, the medals on the left belonged to John Beaumont Corry, decorated in the operations. The Article is dedicated to the Baluch men who served in Dhofar Province with Harry in 1973 - 1975 and includes a link to some fantastic Landscape Photos of Baluchistan.

There have been two extra photos added to the Juba River article

The major item today has been an article I have been wanting to get done for ages, it represents probably the most Dramatic item in my collection, and I was moved to be able to visit the grave of the original owner late last year. I am sure you will enjoy reading the article and seeing the photos... Emil Engert, a Grenadier who was killed in an attack by the 110th Grenadiers on the French positions in the Caurrieres Wald in 1917 HERE

The second major item in an announcement, calling all collectors with Imperial Iron Crosses. I am trying to get people together to do THE definative work on the Iron Cross 1st and 2nd Class, 1813.1918. Please take the time to read this and consider joining the team. HERE


It almost seems a pity to get so much up in one update, but as a treat, here are some more goodies...

A fantastic Uniform belonging to Captain Vicomte Pierre de Rochas d'Aiglun, killed on the 22nd of August 1914, leading his company in an attack at Nevraumont.

A late war tunic which belonged to the young Aspirant Robert Brunot de Rouvre, killed in Mid 1918

And a Privatly purchased Field Grey Bavarian Tunic belonging to a manwho served in the 6th Field Artillery Regiment.

I have a couple of great articles by Harry in the pipeline, chose to not put them in this update as his writing is far superior to mine and he would have upstaged my article in the 110th Grenadiers, Harrys Articles will be up later this week ;-)

P.S. A.L. has informed me the MG below is actually a rare Bergmann MG 15 (alter Art)

11/01/12

A couple of nice things up,

First off, Harry was visiting the Battlefields in Africa recently, allowing him to get some "Now" photos to compare to the "Then"...
The Loyal North Lancashire Machine Gun Company, part one of its story cocers the formation and operations in German East Africa in October 1915 to April 1916

Some New additions to the Machine Gun Photo Album, including a rare Belt Fed Madsen Photo HERE

A couple more for the Minenwerfer album as well HERE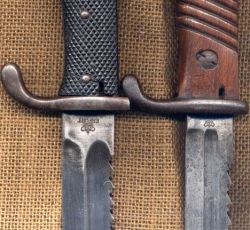 27/12/2011

For ages and ages I have been meaning to get up a selection of Photos showing the Alpenkorps Edelweiss being worn.... I have finally made a start today. Please see HERE

Harry has left the Dark Continent for a short trip to Iraq, with an article about a Norfolk with the Iraq Levies HERE

Another thing I have been meaning to do for ages it get the Photos up of a small selection of german bayonets used by the Schutztruppe in German South West Africa from 1900-1915, that is now finally done HERE

Well, its been some time since the last update but work and family have been taking up my daylight and nighttime hours.... so now finally an update....

Cheack out the group on the right.... You can see who wore those in Harry's article on the "Mad Mullah"

I have not had time to finish the articles I am working on, but I promise... they will be there for the nest update with some really interesting Militaria

Until then, some really interesting Machine Gun Photos have been added HERE

29 Oct 2011

A Bunch of new stuff today, I still have a lot of "almost finished" stuff, but just dont have the time to finish it at the moment.

Harry moves to the Middle east for this update, the Machine Gun Corps in the Arab Insurrection, Mesopotamia 1920-21 can be found here

A nice addition to the article on the fighting on the Souville Nase in August 1916 can be found here

Some more fake Iron Cross documents have been added to the database



Last time the link to the New Photos on the MG Photo Album was not working, so have added another pic with a new link HERE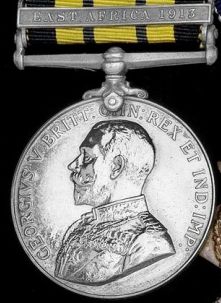 25 Oct Correction

I had forgotten to add the link to the Uganda section, this has now been fixed. A new update will take place this weekend when I have a moment off :-)

11th OCT 2011

The Major addition for this update is a fantastic section on the operations in Central and North Western Uganda at the beginning of the 20th Century. It can be found HERE

Many actions may be too small to make it into the History books... Portuguese offensive actions in german East Africa 1916 may be one of them... we have some time and space for them though HERE

There have been more Photos added to the albums


The Machine Gun Photos HERE

Minenwerfer Photos HERE

07 SEP 2011

First off, the heavy hitter.... Harry's new article is up... and it is (as always) really solid stuff indeed.

The Rhodesia Native Regiment in German East Africa, 1916.

Africa in the Great War is not everyones cup of tea, but Harry is nailing it down sector by sector, battle by battle and as he advances "Harry's Africa" has become one of the most important resources available.

"Comrades of War", a complete revamp of an old section with some important new stuff, including a very scarce award.

The Machine gun Photo album has a few new Photos, as does the Minenwerfer section and the Verdun Battlefield Photo section.

Harry leaves Africa!

An "Anatolian Incident" has been added to "Harry's Sideshows", the 24th Punjabis in Turkey in 1920.

A few small additions to the Photo Section, basically laying some groundwork.

A couple more MG Photos HERE

A new photo section on my new passion, the 7.58mm leichte Minenwerfer HERE

A new addidtion to the Granatenwerfer 16 section in the form of a Photo Page HERE

16 August

Quite a bit up today...

First off, Harry has added a fantastic page, The South African "Cape Corps" has long been thought of as a "Labour Battalion"... it is often overlooked that this unit also has a record as a fighting unit. A tribute to the "couloured Labour Corps" HERE

A few more additions to the Photo Sections, including a selection of Photos of the Field Clergy, A few additions to the Machine Gun Album and last but not least, some interesting articles for sale at the German PX/NAAFI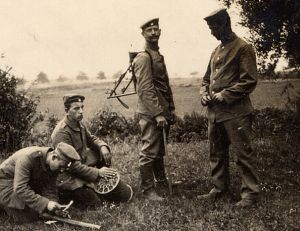 28 July

I have had a killer month and have not had time for the site, but luckily Harry is there :-)

Another fantastic article covering WW1 in Africa, this time adding to the GEA section, operations in Southern GEA in October 1916.

I have also added a new "Photo Corner" where I will attempt to cover Weapons, Equipement, Branches of Service, as well as the Human side of the conflict

For the Photo Corner go HERE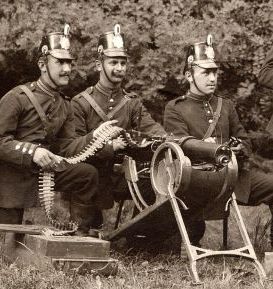 Harry is back in Nothern Rhodesia, covering the British South Africa Police Special Reserve as they battle German Askari on the frontier

HERE

A new page has been added to the Machine Gun Photo Album HERE

The artillery has not been covered in any great detail on the site yet, so here finally, a first page in the Artillery Photo Album, dealing with FLAK artillery HERE.

Finally, some new Death Cards have been added to the Death Card section of the Alpenkorps HERE.

Northern Rhodesian Police and Belgian Askari join to fight against von Lettow-Vorbeck's Schutztruppe in Northern Rhodesia in 1914 - 1915.

Harry continues to make "Harry's Africa" the premier online source for "obscure" African wars.

We have averaged over 8 000 visitors a month for a number of months now, please dont forget to leave a comment in the guest book.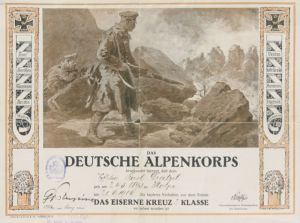 I have been meaning to do a write up on this document for ages and ages and ages... it is one of my favourite/most important Iron Cross documents.
The Poudriere at Fleury, taken by Germans using Flame Throwers in July 1916, taken by the French using Flame Throwers in July 1916... Tit for Tat.

Karl Dreitzel was the man who slammed the doors shut when the French launched their attack arounf midnight on the 19th of July 1916.
A great account of the fighting and his Iron cross document. You seldom find so much info when researching a company grade man.

Go Here

26 MAY

The Last Update for a few weeks, although I am sure you will agree that May was a record Month for posting.

Lioma, the last Great War battle for the 1st Batn. of the 1st Regt of the KAR in Portuguese East Africa, August 1918.

I am sure you will agree that "Harry's Africa" has become the best reference to pre WW2 African conflict on the Web.

More additions to the Alpenkorps Death Cards section, although very much still a work in progress. Check the toolbar under "The Deutsche Alpenkorps"...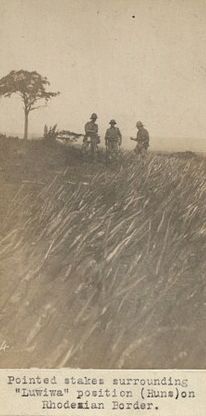 24th May

Malangali 1916: The Union Central African Imperial Service Contingent and the 1st Kings African Rifles fight the Imperial German Navy... now, if that does not catch your eye... something is wrong with you!

It is a great new (and detailed as always ) article for Harry's Africa.

The Alpenkorps gets its own page, still under construction, but a selection of death cards on the tool bar on the left, Bavarian Jäger, 3rd Jäger Regt, Leib Regt.

There is loads more to come on the Alpencorps, just need to get it done ;-)


A bit more added to one of my favourite pages, A bavarian Silver Bravery medal award for Verdun


20 May

This week we have 2 "Real Men" on the update...


Harry has an article about Captain Arnold Wienholt, DSO MC and Bar, a man who fought in the Boer war, WW1 and WW2. A Bush Scout and Intel Officer... I defy you to look at the Photo of him... and NOT be interested in reading who he was and what he did....


Hauptmann Hermann Burchardt was a company commander in the lightning strike on Liege, commanded his Divisions Sturmbataillon at Verdun and as a Battalion Commander on two occasions led his staff in counter attacks when the enemy broke through his lines. First time worked out well... second time, not so well.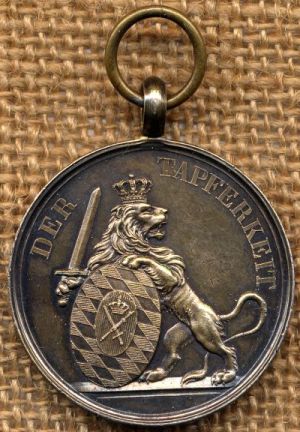 08 May
Maybe the best update ever?
I bet there is a lot you have never seen here... ;-)

Starting off in Africa with the Somaliland Camel Corps... Harry takes you places most of us have never read of before to continue "Harry's Africa"

From the WW1 Western Front side there is an interesting and FANTASTIC addition... there is little in English Literature about the 2 Battles at Münster in 1915... Not only that... in the articles there is a Bavarian Gold Bravery Medal group (Right) for the fighting in the Reichackerkopf, and a Death Certificate to a Member of Sturm-Abteilung (Pre Bataillon!) Rohr in a fully revised article.

A page with Franz Riethmann's awards can be seen HERE

27 APR
And more...
A Real Blockbuster article by Harry, the fighting against the "Mad Mullah" in Somaliland 1901 HERE

And August 1917, the Germans are finally pushed off the "Dead Man" HERE

24 APR
Just rocking this week!!!

RIR37 of the 10. R.D. on the Southern Wing of the Michel Offensive... An Iron Cross 1st class document for a machine gunner and a brief description of the action...

Some more for Harry's Africa coming soon...


22 APR

Its been in production for way too long, but finally Part 1 of a 4 part series of articles about the war of Oberleutnant d.R. Heinrich Hawickhorst, 10. Infanterie-Regiment (1. Lothringisches) Nr. 174.

The fighting at Dieuze/Vergaville, 1914

21Apr
Well, squeezed in an update...

Something Rare as Hens teeth... the "Juba River 1893" bar on the East and West Africa Medal... If you want to know how it was earned, see Harry's Africa


Amongst the many plans I have for the Site are to increase the sections on "elite" divisions... so preparing the framework for the 10. R.D. and a couple of links to articles HERE


16Apr

Well, the last couple of weeks brought an interesting battlefield Tour at Verdun, and then an intense 7 days at work, so I did not get the promised article finished, however, Harry has one for you, and I have a small update to an older page...

Happy to say we have had over 8000 visitors a month for the last 3 months now :-)

British East Africa, 1913 and the last Prewar DSO has been added to Harrys Africa...
HERE

And the "devil on the mountain" has had some dicuments added HERE

30 March
Harry has a great new article up, "The advance from Port Amelia" the Gold Coast Regiment in Portuguese East Africa, 1918

There is another great Harry Article up next week and I am doing an Article on a particularly bloody skirmish at Verdun, and an article about actions of the man who wore the IR174 tunic below.

14 March

Harry is off Bundu Bashing again.... The East African MG Company 1915-16 HERE

2 New Uniforms, an Officers M1907/10 to an officer in the I.R.174 and a French Model 1915 Tunic to the 99 R.I.

10 March 2011

A couple of things to brighten up your day.

The British West Indies Regiment fighting for the Jordan Crossings in Palestine, 1918 HERE

And a few additions to the Iron Cross Documents Fakes section HERE

27 FEB 2011

It's been a fell of Month but I had an evening off to get some stuff up.

Harry is fighting on two fronts, a dark night in the desert in which many medals were earned, Hilla in Mesopotamian, 1920 HERE

Yabasi in Kamerun, 1914, the operational Deployment of the West African Regiment HERE

A little hobby of mine, tracking Fake Iron Cross documents on EBAY, some new ones HERE

Some period landscape shots of the Dead Man and Height 304 HERE


12 Feb 2011

OK, had a bit of time tonight so managed to get some exciting stuff up :-)

The Official Launch of "Harry's Sideshows" as Harry extends his influence away from the African continent here

However... not that he is leaving Africa for ever... the Uganda Volunteer Reserve HERE

I noticed one of the pages of the Machine Gun album was a bit bare... so some really interesting MG pics added to page 14 here

And a bit of European propaganda from the Boer war as a Postcard page is added HERE

10 Feb 2011

Hope to Get up a new section this weekend, but for now just a small goodie... Louis Botha Cigarette Cards and Post Cards... HERE


06 Feb 2011

J.P. Jooste, a Legend in his own mind... How a Boer Officer made a living out of selling his "legendary past".... HERE

05 Feb 2011

Computer up, running... all is well ...
Work has me tied up and reeling... luckily Harry is working to keep up the pace...

And a great pace it is... A second article for "Harry's Sideshows"... the 1st Chinese Regiment in the Boxer Rebellion. HERE

Plans for Feb, if time allows... an article about the Capture of Hatchet Wood by Canadian troops in 1918, another photo section for Verdun, European patriotic Boer war postcards, etc. etc. etc......

27 January 2011
Battling computer problems at the Mo. But have squeezed in something good...
Not content to conquer Africa Harry is spreading his wings.... I am going to be opening an exciting new section called "Harry's Sideshows (and distant Battlefields)" within the week... so wanted to give you a taste with a page on the Battle of Ramadi 1917..
Here...

15 January 2011
Well, a new year has started.

Harry is campaigning already, back in German East Africa this time with an account of Kikarunga Hill, and the death of Capt Butler VC DSO. HERE

A new section is in the making, allowing Harry to cover campaigns off the African continent, it promises to fill some gaps in our knowledge.

06 December

An early X-Mas Special for you lazy buggers who don't bother to sign the guest book.

First off, some variations on the Granatenwerfer 16, with photos comparing the Prussian made and rare Bavarian made Werfer

Harry has outdone himself, giving us one of the obscure and exotic Colonial/Indigenous units in "Cole's Scouts" and giving covering a lightning campaign in "Togoland 1914", over before the Germans even knew it was happening.

Harry's Togoland article ties in nicely with our Fake EK doc section, showing why the pictured Togoland Document must be a fake. A few more Fake EK docs are shown as well

Some small changes to the article about the 10th RD on the Aisne with some historically fantastic EK docs


03 December

Have been meaning to do this for over half a year and tonight was the night... A couple of years ago a friend passed a group on to me that really blew me away. There were hundreds of letters, 5 diaries, a pile of Photos and three tunics to a younf man who was killed in 1915 on the Eastern Front. I have had parts of this group up on the forum, but now, finally, having taken much longer than it should have, I have added a page regrouping it all. Please visit the August Weber page right HERE

28 November

Well, its been a while, so an update was badly needed.

Harry has outdone himself in an article about the Sikhs and the Senussi in the Western Desert HERE

BURIED ALIVE! One of the most terrible fates a soldier could face on the battlefield HERE

01 November

A new Chapter added to Africa in WW1 as Harry covers the Northern Rhodesian Rifles, the Mobile Units from 1914-1916 HERE

A new photo has been added to the 5th Division crossing of the Meuse HERE

Coming next week (if I get the time) is a section grouping the articles of a Young Man killed in Russia in 1915.

24 September

Harry adds an important piece of South African WW1 history to Harry's Africa. Capt Bloomfield VC of Van Deventer's Scouts. HERE

For WW1 Medal collectors, a bit of primary source Info about South African WW1 medal Rolls and Naming HERE

Some additional stuff added to the Uganda RVR article below.

10 September

Well, once again life got in the way of my plans, so it took longer than expected....

But here is part of the promised update...

UNIFORMS... some researched, some not... but I like to think all are nice to look at... a new section that starts off with some nice ones including a choice 1907/10 Feldbluse and a whole lot more HERE

Harry is on his way to creating an exhaustive online memorial to the men who served in units you wont find anywhere else. Today it is the Ugandan Railway Volunteer Reserve HERE

12 August

Harry has put another piece in the puzzle, a very small unit in German Kamerun is covered in "The Gambia Company".

Pretty soon there will not be a stone left unturned on the dark continent!

I hope to get a major update done this week with some exciting new stuff :-)

05 August

Am really happy with todays update :-))

Harry has turned up a fantastically obscure bit of military history... the Magadi Defence Force, one of the fascinating footnotes to British Colonial history the unit existed for a blink of an eye in 1914 HERE

I have for ages and ages meant to finish the article on the US 2nd Division attack on the "other" Vaux on the 1st of July 1918.

When I first read a mention of the action I was confused... "Vaux" is "Vaux" and is a cornerstone of the Verdun battlefield... is it not? Not!

There is another "Vaux"... not the "Vaux" we read about in the general histories of the war, but a Vaux that we find mentioned almost exclusively in 2nd Division articles.

As I have a wonderful Silver Star, Purple Heart and Croix de Guerre group to a man wounded in the attack... I proudly present to you... The OTHER "Vaux"

02 August

I have had numerous requests for some more "German" so I managed to get this finished at last. It is a rather extensive section on German Signal/Communication troops... and is more interesting than it sounds! Give it a try, it is spread over 4 pages HERE

Another article by Harry in the Pipeline, guaranteed something you have never heard of... so worth a read.

Also a nice Silver Star article to add to the US section coming soon...

23rd Of July

Yes, its been a while... Work, Family... you know how it is...

Have 3 things for you today.... Harry almost left the continent with an article on the fighting in the Suez Region in 1914-15. Still a looong way to go, but I think Harry must have THE best online selection of articles about warfare in Africa... and I am proud to host them! So.... the boat to Suez leaves HERE

I visited the area when one of "my guys" won his medal... for some photos of the area today, click HERE

I actually took his Silver Star with me... so the Medal actually visited the place where it was earned :-)

And another page of rather cool MG photos added HERE

11th of May

My apologies, I have not had much time this month.... Have a short article about S.B. Rohr with a longer one almost ready....

Often overlooked in mentions of S.B. Rohr was a short stay in the Champagne in 1917 by 2 companies... here is a short page with some details and a document... HERE

11th of April

Something fantastic happened last month. I put up an Article about a member of the 4th Zouaves who won a Croix de Guerre for a heroic defense in the Vaux-Chapitre forest/Souville in August 1916 as well as some German documents for the action.

Then... I posted Photos of 2 random graves of men killed in the action. 2 Graves of 2 amongst hundreds of thousand of men killed during the battle of Verdun.

One of the men died at the age of 22, leaving no wife and no children behind.

Jean Lemieux wrote in "La Lune Rouge"...

"Life is like a huge furnace. When we leave there is just a pile of ashes, photos, memories, a farce that two generations later means nothing. A white stone on a hill next to the church."

I don't know what the chances are of a nephew of a man killed almost 100 years finding a randomly chosen photo on a website are... but I am pretty sure that they are very, very minimal.

Please take a look at this HERE

By the way, we passed 8 000 visitors last month again.



03rd of April

I have at last got this bit done, arguably THE elite unit of the war, Sturm-Bataillon Nr. 5 (Rohr), the 4. Sturm-Kompagnie in Mid 1916 in Verdun HERE

29th of March

Busy week, so just some photos... but nice ones on the Ski troop page.... HERE

23rd of March

Its been a busy week or two so I have had little time to do much, but have a couple of things that may be of interest.

The Bavarian Schneeschuh Battalions were the forerunner of the WW2 Gebirgsjäger. Up today are some rare photos of a Schneeschuh unit in the high mountains HERE

A couple of nice Machine Gunner Photos up HERE

I Promise to get some new text sections up soon.

12th of March

The fighting at the Lukuledi Mission in German East Africa, 1917 adds another piece to the history of the dark continent HERE

There were a couple more very interesting MG Photos to add. Not enough to warrant a full page so I added them at the bottom HERE It includes a nice shot with a soldier wearing the MG and Blacksmith badge.

The following are older chapters which have have had a couple of new illustrations added, a nice balloon shot to the Balloon page HERE and a nice color illustration to the HWK page HERE

a Couple of things added to the "For Sale" page HERE

3rd of March

Well, its been a few weeks, so high time for an update!

Harry puts another piece in a puzzle with an article about the Fight at Kisii, British East Africa, in September 1914 HERE

Adolf Breuer, one of the first Stormtroopers, and I mean the REAL deal, Sturmbataillon Nr. 5 (Rohr) style Stormtrooper on the Western front, WW1 etc. etc. etc.... NOT the overweight beer guzzling Nazi Stormtroopers of the 1930s.... Anyway, I digress... I am happy to be able to present to you the first in a series of 3-4 pages about Breuer right HERE

And, a quicky... some more photos added to the Machine Gun Photo Album... which must slowly be becoming the largest Database of WW1 MG pics online? HERE

13th of Feb,
Well, not that you lot deserve it, but here is more..... :-)
A bit of an Update to the Kraftfahrer page HERE

The real meat of the update are a couple of additions to the Verdun Section. First off are some great studies of the terrain HERE

Then a new section on Photographs of the battlefield HERE

10th of Feb

Part of the failed update from the 4th is up, a great Victoria Cross action in the Cameroons has been added to Harry's Africa. See Here

A nice google shot has been added to the Byron Silver Star article below... it really brings some perspective into the narration.

We had almost 8000 visitors to the site last month, we have helped not only collectors, but also family researchers whose relatives took part in actions featured in the write ups. I will not be able to fit as many updates in in Feb as were possible in Jan, but will try and get articles up at regular intervals.


4th of Feb

A bit of an accident today, after dedicating the whole evening to an update, I lost more than half of my work in a crash... so, the link offered on the John A. Byron thread to the original text does NOT work (Everything flew out so I have to redo it) and Harry's new bit of Africa went West as well. I will redo all this on the weekend...

What does (Hopefully) work, is the following....

"At 4.20P. M. the 2nd Battalion, 60th Infantry, and the 2nd Battalion, 61st Infantry, had reached the bank of the river, and the engineers started work on the first bridge. At this moment a tremendous fire of machine guns and artillery burst on the exposed troops with great suddenness. The infantry sought shelter and found it, but the engineers bravely continued at their posts. Shells sank their boats as fast as they could be placed in the water and by 6.00 P. M. no boats were left. "

John A Byron was one of the Engineers trying to build the bridge... he was awarded the Silver Star for his action HERE

31st of Jan

Well, I hoped to get a bit more up today, but was called out... still, this section got the (hopefully exciting) update it needed with what I hope is useful info about the actions of the AEF... please see HERE

Coming up soon is a new campaign by Harry and a Silver Star on the Meuse River

30th of Jan

Some of the older hands may recognise this Purple Heart, To a man gassed in the Meuse Argonne Offensive. Please take another look. After some effort I think I have improved the article by 500%. HERE


23rd of January

Well, as the site grows, things evolve... and so, a new section opens... The US in WW1. As the articles are spread all over and 4 more are backed up in the pipeline it seemed logical to regroup them... still under construction, but ready to use.. HERE

Harry occupies an area that in revenge occupies our Media today, along with a tie in to a shipwreck off the Horn of Africa. Somaliland 1884-1898 HERE

The Machine Gun Photo album has some interesting items today HERE

16th January,

Harry continues the adventure in his 24th exotic battle. Barton's Battalion in Nyasaland and Portuguese East Africa in 1918

15th of January,

About two years ago I put up a message on the bottom of the front page saying if anyone wanted to donate a couple of bucks to the site, please use the paypal address. So far I have recieved donations to the tune of USD 0.00. If you consider the exchange rate, thats even less than EUR 0.00 !!!!

Somone pointed out to me this week that I had the wrong paypal address (.com instead of .de) DUH! Anyway, incase you want to, address is corrected. There is absolutely no pressure on anyone to do this, there are more important things in the world... if its a choice between Kaiserscross and WWF... I urge you to choose the WWF, they do more good than I do.

Some more tweeking.... improvement to the Page about the 6th Field Artillery at Passchendaele... HERE

An Iron Cross and one of THE essential research books added to the for sale section

14th of January,

A trip to the battlefields last year got me thinking about all the "young men" (I can say that now, I have reached 40) killed who left nothing behind. Many soldiers were killed and left children behind, those are the soldiers whose great-great grandchildren know he died in the war but have no idea of his name...

But there are also many, many young men who don't even have great grandchildren to forget their names. Their crosses are grouped in Military cemeteries and in many cases the only one ever to have visited them is the man who cuts the lawn....

Today I tried, in a very modest way, to give a bit of short term immortality (no, it does not really exist, I made that up) to two soldiers killed on the 5th of August in the Vaux Chapitre wood/ Souville sector at Verdun.... As with most of the dead... they are the footnote to the chapter.... HERE

13th of January,

A New section!

Kaiserscross is not going commercial, but I have added a for sale section to the site to raise some funds and move on stuff I do not really need. It is not a dealer site and I will not feed the need to constantly update it with boring waffle, while advertising it as "Investment grade, super rare pieces!"... 99% is stuff I once wanted... and now no longer need.

Please visit and remember, trade is also very welcome, my wants are many and varied... so feel free to contact me with offers.

Sale section HERE


9th of January

Well, 2010 is here... over the last 3 months we have managed to average 6000 visitors a month :-)

A couple of quickies today... but worthwhile..

For the Machine Gun fans, a nice new page to the photo album, over 100 photos now.... HERE

A revamped page for Max Stark who dug comrades out of a collapsed bunker in a heavy bombardment, wounded in the process and winning a high decoration HERE

30th of December

Its been a loooong year and it has not always been easy to find the time to update the site, never mind write anything. Thank god for Harry who keeps the store room full. Today he sets of on his 23rd expedition as a Jamaican Lance Cpl wins a Victoria Cross in Gambia 1891-2 HERE

An exciting new section debuts today, Weapons of the Great War. Some rare stuff as "Gunner" Rick presents the Granatenwerfer 16, its really worth a look with some rare material shown HERE

Wishing all who visit the Site a happy and successful New Year.

Thanks
Chris



13th of December

Quite a bit up today...

More photos added to the machine gunner album

More information added to the death of Armand Detrus

A start of a new sections, Verdun Postcards HERE

The Trench raid at Avocourt gets a face lift HERE

Still to come this month, another dramatic action in "Harry's Africa"

29th of November

Harry takes a stab at Mora Mountain as he introduces another exotic corner to the Great War. Fighting in the Lake Chad area in 1914.

15th of November

Bayonets in the African bush during the battle of Bweho-Chini. Harry takes more of Africa HERE

11th of November

Updates to Harry's africa are still ongoing, but in the meantime... this just HAD to be here today... 11th of November and William M Cain is wounded on the last day of the war.... HERE

04 November

Sooooo much to do , so little time. :-(

A huge page is up... I am very happy with it... the last shots fired at Verdun on the 11th of November 1918 by the US 104th Field Artillery along with items belonging to one of the battalion commanders Major G.R. Seymour. I have also used a new idea... a map along with satelite pictures... have a look HERE

Another page added to the machine gun photo album HERE

Coming up are two new pages for Harry's Africa.. and in true British style, Harry is not happy to conquer one continent, watch this space as Harry casts his net further to include the fighting against the Turks in WW1.




03 of September
For sometime I have been working on a translation of Generalleutnant August Fortmüllers account of the fighting at Verdun in the last half of 1917. Of great interest as it is one of the few English Language descriptions of the events. When I have time I will add photos and maps HERE

Harry has set off on another Punitive expedition, an account of the Taita Hills campaign can be found HERE

16th Of August
Sloooowly I am having a bit more time to take care of the site. As usual, Harry is carrying more than his weight... and this time he has an article on a really EXOTIC location. Try the Battle for Mafia Island !

Some more WW1 German today... the Machine Gunner photo Album has 10 new original photos added to it on two pages. HERE

29th of July,
Lots almost happening, but work and family still getting the better of me.
Luckily Harry is more dependable and he adds to the empire... The Yoni Campaign in Sierra Leone 1887-88

28th of June
Its been some time, Mea Culpa, life got in the way of the site ;-)

Didn't prevent Harry from continuing the good fight... but this time it ends in a hopeless muddle at Longido

Another page added to the Machine Gunner photo Album HERE

20th of May

Some great things up today....

Harry continues putting flags on the map as he presents the little known battle at Rejaf and the Congo Free State army HERE

For those interested in German Assault troops 1914-1918 we have 2 firsts for you.

First first is a total rework of the page on the first assault by Sturm Bataillon Nr. 5 under the command of Willi Rohr HERE

Second first.... the first Panzer Grenadiers... the men of Sturmbataillon Rohr take part in the first German Tank attack. Thanks To TomY for helping out on this and Don Doering for the picture of one of his Tank Badges. Some Rare documents pictured HERE


6th of May

We had over 5000 visitors last month, looking good!

Today Harry conquers another piece of Africa. Darfur 1916, a bloody corner of the world that is still at war today.

Volunteer for a mission where you are almost sure to die, and come back alive. It should and did get Charles Chedeville a medal. An old article but with a rare Lehr Infanterie Regiment document added.

1st of May

Tom W has done a fantastic rewrite for the Sturm-Bataillon Rohr page HERE
In the pipeline is a new Article for Harrys Africa, hopefully finished by the weekend....

18th of April

Harry's war against cattle disease turns into a military campaign in Bechuanaland 1896-97 HERE

The older men of the Garde National Mobile of the Cote d'Or are sent to Algeria to occupy a fort during the Franco-Prussian war. Their cushy number becomes critical when they are besieged by the locals HERE

6th Of April

Harry is on a Punitive Raid to Witu this week, another piece to the wars in Africa puzzle can be found HERE

Thanks to Tom Young we have a great new section on the evolution of the German Machine Gun troops 14-18 HERE

Another Page has been added to the Machine Gun Photo Album HERE

28th of march

Egypt 1882: Harry continues his march through Africa, from Alexandria to Tel-El-Kebir HERE

2nd Of March:

A major relaunch of the Verdun page, this time as its own section HERE

Harry's colony spreads further as he covers the Angoniland Rebellion 1898-99 HERE

Added to the Great Gibeon article is a list of casualties from a document in the South African military Archives...

24th of Feb
A Victoria cross for the fighting in Gambia 1866 is the subject covered in today in Harry's Africa HERE

23rd of Feb
A fantastic update to the flamethrower page thanks to TomW as well as some very rare flamethrower items HERE

17th of Feb

1880s and Africa are IT today...

Harry has an account of the opening stage of the Transvaal war 1880-1881 in his Africa section, the battle at Bronkhorst Spruit HERE

The road to Kairouan, a background, a diary and an award document to a French soldier who rode a supply column to Kairouan in Tunisia 1881 (A big thanks to Tom Young!) HERE

10th of Feb

A final volley! Major Harold Griffith dies leading a bayonet charge in German Kamerun in 1915, winning the Croix de Guerre HERE

8th of Feb

It has taken quite some time but I am happy at last to present a fantastic account of the fighting at Gibeon Station in 1915. Translated into English it is taken directly from Walter Nuhn's wonderful new book "Auf verlorenem Posten", without a doubt the best book dealing with the war in German South West Africa. Herr Nuhn kindly gave permission to use it on the site. Along with the text are a couple of items that should excite the most blase Schutztruppe collector. HERE

Added to Harry's Jebu War article are some pictures of a very desirable medal, see here

6th of Feb

Ever heard of the Jebu war? Here is your chance to find out what it was...

A Medaille Coloniale to the 23rd Bataillon de Chasseur a Pied for the annexation of Tunisia in 1881 HERE

29th of January bis

Goats testicles and DSOs, Ross's Scouts in German East Africa

29th of January

Spectacular MC and bar and DCM group added to this article... HERE

A Tonkin award to an artilleryman of the 1e RAMA Here

24th of January
The fight for Zuganatto Bridge, Baron Eric von Otter wins the Military Cross


19th of January

Shipwrecked on the Horn of Africa. The French transporter Aveyron runs aground off the coast of Somalia in August 1884 on its way home from Saigon

18thof January

The Baganda Rifles, Ugandan Hunters who volunteered to fight in German East Africa

14th January

The waterholes at Narungombe, a British officer in the Gold Coast Regiment wins the Military Cross in German East Africa, 1917


12 January
You will see the front page has been revamped for easier navigation

Also a short article about the death of C.W. Walser, killed in German East Africa on the way to Tunduru

"The Battalions of Pain"... Service in the Bat d'Af was about a lower point as a soldier could hope to achieve... A short write up about the Penal battalions in the Rif War period including a very rare document HERE


03 January

Our very own SEARCH ENGINE


A new member joins the site today and lends a greatly appreciated helping hand in the "Africa at War" section. Harry Fecitt MBE is contributing to a new section called "Harry's Africa"... go HERE to see the start...

02 January

A new addition to the site... The "Medaille Coloniale" is one of the most widely awarded decorations to ever grace the chest of a soldier. It has rewarded campaigns in desert forts and steamy jungles. It is a decoration that provides a wide scope for collectors, either in variations of the medals and its bars, or the certificates and award diplomas which cover campaigns and battles that capture the imagination. For a small "taster" in this interesting collecting field, please see HERE


28th of December

Sous Lieutenant Georges Picquet fought on the Mont Cornillet in the Champagne until he was wounded in April 1918.

23rd of December:
Some good material has been added to the Hartmannsweilerkopf page including a superb commemoration certificate for a German killed on the first bloody day of the December 21st offensive. see HERE

South Africa's first officer casualty has seem a bit of a restructure with some links added HERE

22nd of December

Trench raids were usually short, bloody and merciless affairs. The objective of the raiders was to enter the enemy positions, take a handful of prisoners then kill and destroy as much as possible before returning to their own positions. The raiding parties had little means of handling large numbers of prisoners and those enemy soldiers who could not be taken back… could not be left alive either. A Trench raid at Avocourt on the Verdun battlefield HERE

13th of December

A death most beautiful.... Robert Tremblay sent in this wonderful selection of letters and photos written by one of the "Innocents" killed in Flanders in 1914....

19th of November.

Yup... its been a loooong while...

A Harlem Hellfighter involved in a bloody and spectacular defense wins Frances highest combat decoration in this article by prosper Keating.

3rd of July

Black Day at Demuin... a Fussartillery Batterie is destroyed... thanks to TomY for help on this one.. HERE


Some raw data from Chip M, from the research files of Major von Stein. A list of the Feldgendarmerie units in 1917-18 HERE

22nd of June

Start of a new section dealing with the men in the trenches. It basically groups together awards and documents to men that are otherwise scattered over the site.
See HERE

21st of June

A new section on the Feldgendarmerie has been added, Information courtesy of Cron see HERE

A correction in the page on Theodor Günther, wounded on the Somme can be found HERE

A new addition to the Machine Gunner Photo Album can be found HERE

24th of May
As we approach this months 4000th visitor... some Eastern Front stuff...
A rough overview of the mid 1915 battles of the Njemen-Armee with items to men who fought in the battles. First part of the August Weber group included HERE

17th of May
The reduction of the St Mihiel pocket in 1918 by general John Persings newly arrived American troops HERE

5th of May
A section on the "Boer war on the German bookshelf" some decorative items published in Germany during and after the Boer war. HERE

3rd May
At long last the beginning of a section that deals with the militaria and relationship between Imperial Germany and the Boers HERE

10th of April
At long last I have gotten around to presenting the group to Major H.J. Pretorius who played a role in crushing the 1914 Rebellion and fought in the Southern Force in the campaign in German South West Africa HERE

9th of April
A page about the mapmakers, just to show where they fit into the army HERE

6th of April

Prinz Adalbert was wounded again in the Marne-Champagne offensive. To see his wound badge document and a description of the event see HERE

A brief overview of the defensive battles between Soissons and Reims and between the marne and Vesle in July-August 1918 HERE

1-5 of April

I WANT YOU! to help on the site.... I am sure many folks have something to add as far articles, translations etc go... please see HERE

A great section on the German raid on Kakamas, I think the only raid the Germans did on any country of the British Commonwealth during the war. Including rare documents to Oberleutnant Freiherr von Hadeln see HERE

Fighting their way into Romania in September 1916 the Alpenkorps and units of the 187.I.D. had to clear the slopes of the treacherous Vulkan pass See HERE

Bavarian Prince Adalbert was wounded fighting on the Stochod during the latter stages of the Brusilow offensive for his Wound badge in black and award document see HERE

Neuer Absatz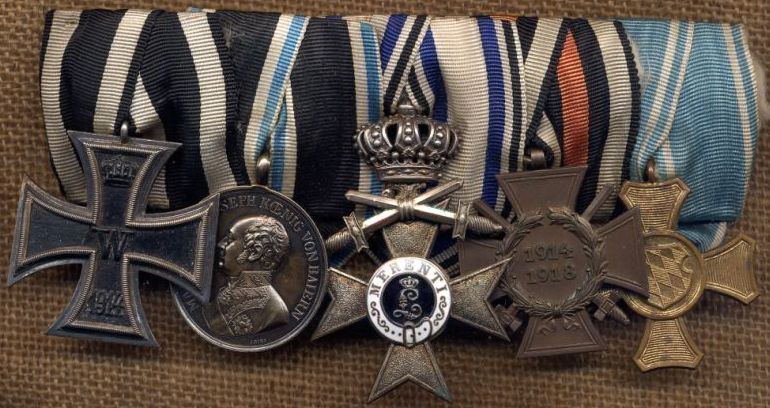 Neue Tabelle
Zeile 2